Kami ceritakan kisah ini tak lain untuk sekedar berbagi semangat dan optimisme. Teruntuk para ibu dan calon ibu yang saat ini tengah hamil atau mengidamkan buah hati, untuk para ayah dan calon ayah yang hari ini tengah mendampingi istri tercinta yang tengah hamil atau sedang berjuang mendapatkan keturunan.
SEPTEMBER 2016
Kami memulai petualangan bersama. Kami berdua sama-sama sekolah, menimba ilmu di negeri orang. Nasehat guru-guru, keluarga dan orang tua tertanam kuat di kepala kami bahwa kami harus sukses dan pulang ke kampung halaman dengan bahagia. Setiap saat keluarga menanyakan kabar. Kami selalu menjawab bahwa kami baik-baik saja. Video call selalu berujung dengan sapa, senyum, dan tawa!
Tapi dibalik semua itu, tersimpan juga rasa haru, kecewa, sedih dan marah. Di saat perasaan-perasaan itu datang, kami hanya bisa menghibur satu sama lain. "Kita hidup susah, tapi kita harus tetap bersyukur, sebab banyak orang lain yang mungkin hidupnya jauh lebih sulit dari yang kita hadapi".
Tetapi kami hanya manusia biasa. Pada titik tertentu, kami menyerah. Berdoa dengan jujur: Ya Allah kami tidak sanggup. Kami akan selalu mengingat kisah ini sebagai ujian sekaligus anugerah dari Allah SWT.
Awal tahun 2017, kami mendapatkan berita baik, istri saya hamil. Kami begitu antusias menyambut kelahiran anak pertama. Rasanya seperti terlepas dari penjara social pressure yang begitu menyakitkan. Kawan-kawan pasti paham maksud pertanyaan, "sudah hamil belum?". Tapi ternyata disinilah kisah panjang itu dimulai.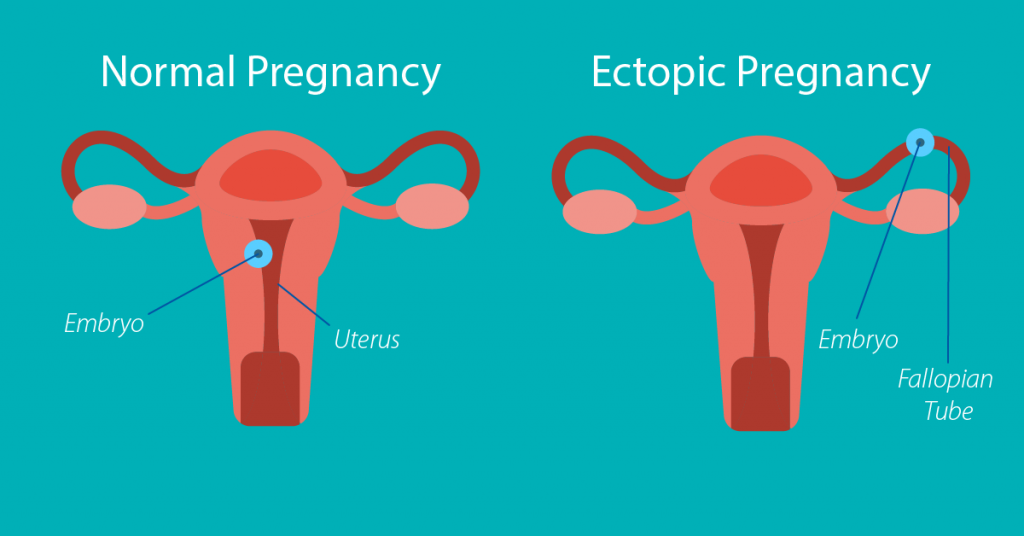 Setelah beberapa kali ke Rumah Sakit, janin yang dikandung tidak menunjukkan perkembangan sebagaimana mestinya. Hormon HCG istri saya tidak bertambah. Singkat cerita Istri saya divonis mengalami ectopic pregnancy. Bayinya tumbuh diluar rahim, dan kehamilannya harus segera diakhiri secara medis: (1) dengan cara dioperasi dan diangkat tuba fallopi nya dengan resiko penurunan potensi kehamilan di masa depan, atau (2) menggunakan obat (methotrexate) dengan resiko pendarahan dan waktu pemulihan yang panjang (6 bulan).
Saya masih ingat, waktu itu adalah hari yang sangat berat untuk kami. Kami berjalan pulang dari rumah sakit dalam diam. Di rumah, kami berdebat panjang. Istri saya, yang kebetulan tengah studi master di the University of Manchester jurusan Reproduction dan Pregnancy tidak percaya dengan vonis Dokter. Nalurinya sebagai seorang Ibu mengatakan bahwa ada bayi kecil yang tengah dikandungnya. Sedangkan saya tidak paham sama sekali apa itu ectopic pregnancy. Tapi, saya percaya betul dengan yang dikatakan oleh Dokter bahwa jika tidak segera ditangani, ectopic pregnancy akan mengancam nyawa ibunya. Kami berdebat tanpa solusi.
Beberapa hari kemudian, pihak rumah sakit terus menghubungi kami karena mereka memahami bahwa Istri saya dalam keadaan yang membahayakan. Istri memilih mematikan hape, dan bersikukuh untuk mempertahankan kehamilannya. Hingga suatu hari, saya sukses meyakinkan Istri setelah pulang ke rumah membawa beberapa jurnal tentang ectopic pregnancy, dan penjelasan tentang peluang kehamilannya di masa depan. Saya juga menjelaskan bahwa dalam Islam diperbolehkan menggugurkan kehamilan yang bayinya tidak sehat dan membahayakan sang Ibu. Terlebih lagi masa kehamilan bayi yang dikandungnya belum sampai 120 hari, masa dimana bayi sudah ditiupkan ruh.
Dengan berat hati, kami akhirnya sepakat mendatangi kembali Rumah Sakit dan mengikuti prosedur yang ada. Setibanya di Rumah Sakit, kami juga sempat berdebat dengan Dokter. Dokter dengan tegas menyarankan kami untuk memilih operasi pengangkatan Tuba Fallopi meskipun itu beresiko akan sulit untuk hamil lagi. Sebagai solusinya, Dokter menyarankan prosedur IVF (bayi tabung) dimasa depan nanti. Tapi kami akhirnya memilih prosedur methotrexate (obat). Keputusan yang kami ambil setelah berpikir panjang dan membaca dokumen akademik dan riset terbaru seputar bayi tabung dan juga ectopic pregnancy.
Sesuai perkiraan, Istri saya mengalami pendarahan hebat setelah prosedur methotrexate itu dilakukan. Fisiknya menurun. Pemulihannya juga sangat lama (6 bulan). Istri mengeluhkan rasa sakit yang teramat sangat bahkan sempat tidak bisa berdiri. Disisi lain, rasa kecewa sangat sulit untuk dihilangkan. "Jika memang benar ectopic pregnancy terjadi pada 1 dari 90 kehamilan, mengapa Allah memilih kami, bukan 89 lainnya?". Tidak ada satupun yang bisa menjawab pertanyaan kami.
SEPTEMBER 2017
Perlahan kami bisa menata kembali kehidupan dan harapan. Dukungan dari kawan-kawan di Manchester serta doa dari keluarga di kampung halaman menjadi penguat kami di saat kesedihan itu datang. Kami pun juga sudah tidak peduli jika ada yang bertanya "sudah hamil atau belum" atau pertanyaan-pertanyaan sejenis lainnya. Anggap saja itu sebagai bentuk kepedulian mereka terhadap kami berdua. Kami juga sudah tidak lagi mencari informasi dan membaca forum emak-emak tentang ectopic pregnancy. Kami tahu betul bahwa apapun tindakan yang dilakukan, kemungkinan untuk hamil lagi akan berkurang lumayan signifikan setelah mengalami ectopic pregnancy. Tidak ada lagi yang bisa dilakukan selain berikhtiar dan berdoa.
Akhir tahun 2017, istri saya selesai kuliah. Kebahagiaan kami tidak berhenti sampai disitu. Alhamdulillah, istri saya positif hamil (kembali). Tetapi kali ini suasananya berbeda. Tidak ada teriakan seperti kehamilan sebelumnya. Kami betul-betul pasrah, sebab mungkin saja itu hanya ectopic pregnancy lagi.
Seiring berjalannya waktu, proses kehamilannya berjalan dengan baik. Tepat setelah 12 minggu kehamilannya, Dokter berhasil mendeteksi detak jantung bayi kami sekaligus penanda bahwa janinnya tumbuh dengan baik didalam rahim dan itu bukan ectopic pregnancy. Kami pulang dari rumah sakit dengan penuh senyum dan tawa, sembari mengingat momen-momen menyakitkan yang terjadi pada tahun sebelumnya.

Tetapi kebahagiaan itu tidak lama. Tepat di usia 20 minggu kehamilan, Dokter menemukan fakta lain bahwa Bayi yang dikandung istri saya tidak sedang baik-baik saja. Dokter menemukan Nuchal Fold pada bayi kami (pembengkakan pada bagian belakang lehernya). Dokter menduga bahwa ada kemungkinan bayi kami tidak terlahir dalam keadaan yang sempurna seperti mengalami down's syndrome, edwards' syndrome dan patau's syndrome. Itu terjadi pada 1 diantara 10.000 ribu bayi di dunia.
Dokter menyarankan tiga hal: (1) amniocentesis atau tes lanjutan dengan mengambil sample air ketuban dengan resiko keguguran, (2) tetap melanjutkan kehamilan dengan resiko bayi akan memiliki kelainan genetik atau (3) menggugurkan kandungan. Pertemuan dengan Dokter itu benar-benar menghancurkan harapan kami berdua. Istri saya tak henti-hentinya menangis. Sebagai kepala keluarga, saya berusaha tegar untuk tidak mengeluarkan air mata sedikitpun. Saya gagal. Saya menyerah dan merasa tidak sanggup lagi menghadapi cobaan itu.
Butuh waktu lama bagi kami untuk membangun kembali semangat baru. Setiap kali kami berjalan di Manchester, menemukan orang tua yang menuntun anaknya yang berkebutuhan khusus dan kelainan mental dengan kursi roda, kami langsung membayangkan bahwa mungkin saja kondisi serupa akan kami lewati suatu hari nanti.
Tetapi disela-sela keputusasaan, optimisme kadang-kadang datang. Saya masih berupaya mencari informasi. Mungkin sudah puluhan website online: forum ibu hamil, yang saya kunjungi, baik yang berbahasa inggris maupun Indonesia. Tak terhitung lagi jurnal ilmiah yang saya baca tentang nuchal translucency. Topik PhD saya seakan berubah haluan, dari ekonomi menjadi kesehatan. Beberapa kali saya pulang ke rumah membawa lembaran kertas jurnal-jurnal itu. Dengan antusiasme menggebu-gebu saya ceritakan ke Istri bahwa masih ada harapan bayi kami akan lahir dengan normal. Tapi dia lebih banyak diam.
Setelah beberapa minggu kami akhirnya bertemu kembali dengan Dokter. Dokter kemudian melakukan ultrasound dan ternyata nuchal foldnya semakin membesar. Dengan kata lain, kemungkinan bayi kami mengalami kelainan genetik juga semakin besar. Namun hari itu juga kami memutuskan bahwa istri saya akan tetap melanjutkan proses kehamilan, apapun resiko yang akan terjadi nantinya.
Kami sempat berdiskusi panjang lebar dengan sang Dokter. Tapi setelah dia mengetahui Istri saya studi tentang pregnancy dan saya jelaskan jurnal terbaru yang mengatakan bahwa masih ada kemungkinan bayi terlahir normal meski memiliki nuchal fold pada saat di kandungan, Dokter itu akhirnya bisa memahami dengan mudah mengapa kami memilih tetap melanjutkan kandungan. Saya juga sampaikan bahwa justifikasi dokter saat ini hanya bersifat diagnosis, karena sampel studi yang terbatas. Nuchal fold hanya salah satu tanda dari sekian banyak tanda-tanda yang lain.
Tetapi dibalik itu, ada alasan-alasan lain yang sulit dan tidak bisa kami jelaskan. Kami tahu betul banyak sekali orang-orang yang memutuskan menggugurkan kandungan karena ditemukan adanya nuchal fold ketika bayinya masih didalam kandungan. Alasannya, karena merasa tidak sanggup jika nantinya memiliki anak yang berkebutuhan khusus. Tapi itu bukan kami. (1) meskipun di Inggris diperbolehkan untuk melakukan aborsi secara medis, kami datang dari negara yang tidak mengizinkan aborsi. (2) Dalam agama kami, Islam, menggugurkan kandungan dalam kasus ini tidak diperbolehkan karena tidak membahayakan sang Ibu. (3) Kami berdua dibesarkan dalam adat Minang yang kuat yang sangat menghargai manusia sebagai ciptaan Tuhan, apapun kelebihan dan kekurangannya.
Hari itu, kami pulang dari Rumah Sakit dengan foto ultrasound berupa wajah mungil sang Bayi. Bayi kecil itu seakan sedang menunggu kami. Dengan setengah marah, saya tatap foto itu dalam.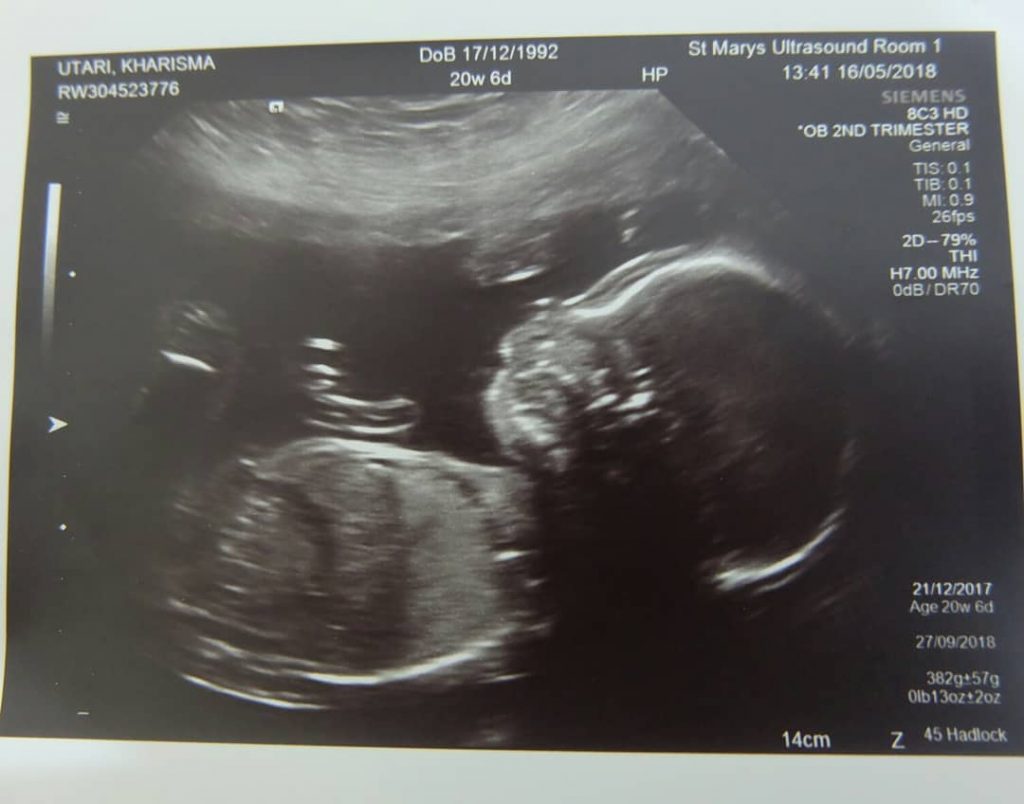 "Hey boy, hey, hey listen to me! Despite science guessed there was something wrong with you, we would never sign the consent that permitted staff to perform termination.  You will always be among us, and will be smarter than us. You are going to be our baby. As long as you are born alive, everything else could be dealt with. Allah will protect you".
SEPTEMBER 2018
Hari-hari menjelang kelahiran adalah masa-masa yang mendebarkan. Selain karena kekhawatiran soal bayi tetapi juga beban studi saya yang semakin berat. Beberapa kali saya harus meninggalkan Istri yang sedang hamil tua untuk menghadiri konferensi akademik. Tetapi Alhamdulillah, Allah selalu membukakan jalannya. Saya tidak akan pernah lupa ketika supervisor saya juga ikut memberikan dukungan dan berujar bahwa: "PhD is only a small part in our lives, it is the time to help your wife".
Semua persiapan menjelang kehamilan sudah kami siapkan. Tetapi sekali lagi, Allah menguji kami. Ketika kebanyakan orang proses persalinannya hanya butuh waktu beberapa hari atau bahkan hitungan jam, Istri saya harus dirawat di rumah sakit sebelum hari kelahiran karena mengalami Preeclamsia, pertanda bahwa bayi mengalami masalah dan harus segera dilahirkan. Malam hari sebelum kelahiran ada dua hal dramatis yang terjadi. (1) malam itu Liverpool menang dramatis atas PSG di Liga Champions, (2) tidak lama setelah itu, sekitar 9 orang Dokter datang ke ruangan dan mengatakan bahwa Istri saya berada dalam kondisi emergency.
Kontraksi menjelang kelahiran terjadi hampir 12 jam. Jauh lebih lama dibandingkan kontraksi pada kelahiran normal. Dokter mengatakan bayinya beresiko mengalami kelelahan dan kematian jika tidak kunjung keluar. Istri saya juga sudah berusaha melakukan yang terbaik. Jujur, itu adalah pertama kalinya seumur hidup mengalami kekhawatiran yang luar biasa. Tidak ada apa-apanya dibandingkan detik-detik menjelang pengumuman ujian nasional atau momen menjelang ijab kabul. Saya mulai tidak bisa merasakan tubuh saya sendiri, membayangkan kemungkinan terburuk.
Sekitar jam 11 siang Dokter akhirnya mengambil keputusan melakukan prosedur third degree tear (prosedur yang super menyakitkan). Tak lama kemudian bayi yang kami nantikan itu berhasil lahir dengan selamat. Bukan bayi mungil, tapi bayi yang lahir dengan berat 4kg. Air mata saya tumpah mengucap syukur.  Dengan penuh haru, saya lantunkan azan ditelinganya, persis didekat pembengkakan nuchal fold seperti yang diprediksi oleh Dokter.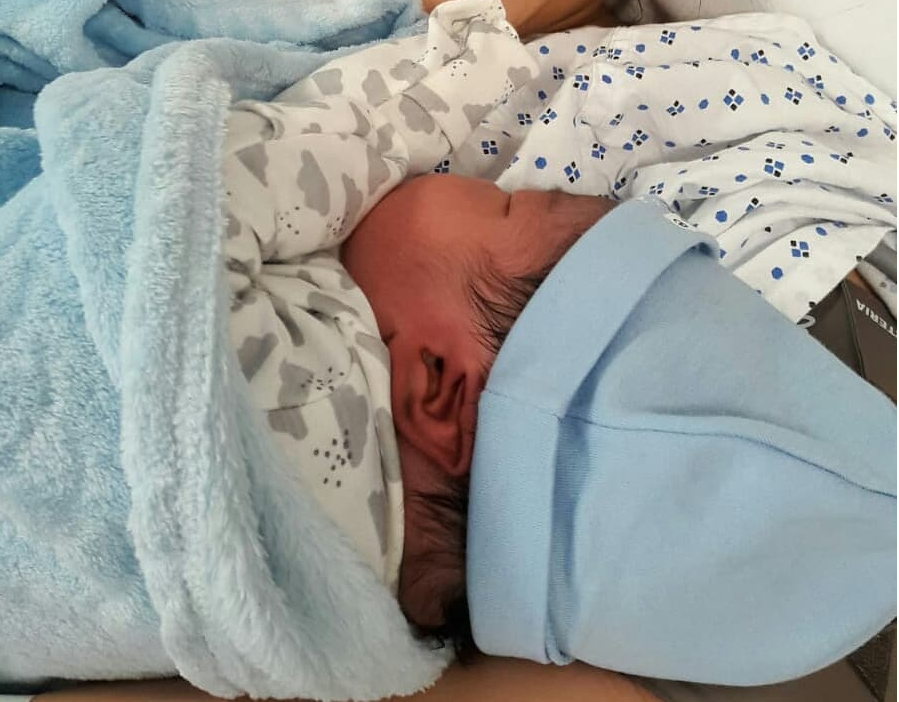 Setelah persalinan, Istri dan bayi harus dirawat di Rumah Sakit. Dititik itu kami begitu bahagia, seakan mencapai titik akhir dari perjalanan yang panjang dan melelahkan. Saking bahagianya kami lupa bahwa ada satu lagi tes yang harus dijalani yaitu tes kromosom untuk menguji apakah bayi memiliki masalah genetik atau tidak. Alhamdulillah, tidak lama setelah persalinan, hasil uji kromosomnya keluar dan bayi kami dinyatakan normal. Nuchal fold pada lehernya juga hilang beberapa hari setelahnya.
Hingga detik ini, kami sebetulnya masih bingung menerka apa rahasia Tuhan di balik semua ini. Tetapi, saya selalu bilang ke Istri bahwa kita sudah menjadi orang yang paling beruntung di dunia. Allah memberikan kami anugerah keturunan disaat banyak orang-orang yang harus menunggu lebih lama kelahiran buah hati mereka. Tidak hanya itu, jika ectopic pregnancy itu terjadi ketika kita tinggal di kampung dengan fasilitas kesehatan terbatas, mungkin ceritanya akan berbeda. Pelajaran hidup lainnya, kesedihan yang dulu kami alami saat istri divonis ectopic pregnancy, belum ada apa-apanya dibandingkan kesedihan Ibu saya, yang harus kehilangan anaknya (kakak kandung saya) di usia 3 bulan, atau orang tua Istri yang kehilangan anaknya di usia 18 tahun.
Hal lainnya yang tidak bisa kami lupakan yaitu banyak  sekali situasi-situasi yang tidak pernah kami duga sebelumnya. Dulu saya sempat protes kenapa Istri memilih jurusan Reproduction dan Pregnancy. Ternyata ada hikmahnya, Istri saya tidak hanya mendapatkan ilmu tentang kehamilan tetapi juga merasakan sendiri berjuang antara hidup dan mati dalam proses melahirkan. Ilmu itu juga yang menuntun kami dalam setiap keputusan yang kami ambil di saat genting. Hikmah lain yang tidak mungkin bisa kami lupakan adalah bahwa disaat sulit begitu banyak dukungan yang datang terutama dari keluarga dekat dan sahabat-sahabat di Manchester. Dukungan dan doa yang tidak mungkin bisa kami ganti dengan materi.
Sebelum pulang dari Rumah Sakit, kami mendonorkan plasenta bayi kami untuk kepentingan riset. Dengan harapan hal itu bisa membantu dunia sains bahwa ada seorang anak keturunan Asia, yang memutarbalikkan prediksi ilmiah bahwa nuchal fold tidak bisa langsung dikaitkan dengan kelainan gen sebagaimana yang dipahami oleh banyak orang, sekaligus menjadi trigger bagi seluruh akademisi kedokteran di dunia untuk berjuang lebih keras lagi menemukan cara yang lebih tepat dan lebih baik untuk memprediksi bayi yang mengalami kelainan genetik selain amniocentesis. Kami berharap, tidak ada lagi bayi-bayi yang mati diaborsi, hanya karena asumsi sains dengan akurasi dan presisi yang sangat lemah.
Bagi calon orang tua yang mengalami situasi serupa dengan kami, saya hanya ingin berbagi semangat bahwa Allah memang belum tentu mengabulkan semua yang kita inginkan. Tetapi Allah akan selalu membukakan jalan disaat kita mengalami kesulitan. Tugas kita adalah menentukan jalan yang mana yang akan kita pilih. Itulah mengapa kita membutuhkan ilmu dan iman.
Ilmu pengetahuan adalah kunci dalam setiap pengambilan keputusan. Kita tidak bisa hanya menyerahkan nasib begitu saja kepada orang lain, dan lantas menyalahkan orang lain jika kita tidak mendapatkan sesuatu yang kita inginkan. Kita adalah penentu jalan hidup kita sendiri. Begitu banyak sumber pengetahuan yang bisa kita jelajahi. Bertanya pada sahabat, membaca info dan pengetahuan seputar kehamilan atau berkonsultasi dengan Dokter.
Namun kita perlu ingat satu hal, bahwa pengetahuan belum tentu mampu menjawab semua persoalan hidup yang kita hadapi. Pengetahuan adalah ciptaan manusia yang memiliki keterbatasan. Oleh karena itu, jangan pernah men-Tuhankan pengetahuan, sebab terlalu banyak fenomena alam yang belum dan tidak bisa ditangkap oleh sains. Dititik itulah kita butuh iman, satu kata yang tidak dipercaya oleh orang-orang Atheis. Bagi manusia yang beriman, manusia adalah penciptaan terbaik. Maka tidak ada hak bagi siapapun untuk membunuh (melakukan aborsi), hanya dengan alasan bahwa bayi itu akan menyusahkan kita di kemudian hari.
Terakhir, untuk para Ayah dimanapun berada, bantu istri menentukan hal yang terbaik untuk sang bayi, disisi lain istri juga tidak bisa hanya "ngidam doang", dan menyerahkan semuanya kepada sang suami. Bayi adalah tanggung jawab kedua orang tuanya. Dua berarti dua. Bukan istri saja, atau suami saja.
Di hari yang berbahagia ini, di hari ulang tahun saya (3 hari pasca ulang tahun pertama bayi kami), saya ingin mengucapkan terima kasih pada seluruh sahabat dan keluarga yang selalu memberikan dukungan untuk kami. For the doctors, the nurses and all the Saint Mary's Hospital staff, I know you do not have the habit of reading this kind of "useless" blog. But, the fact that my little baby is alive and healthy is a miracle. So, thank you. My wife and I will never forget what you have done for us.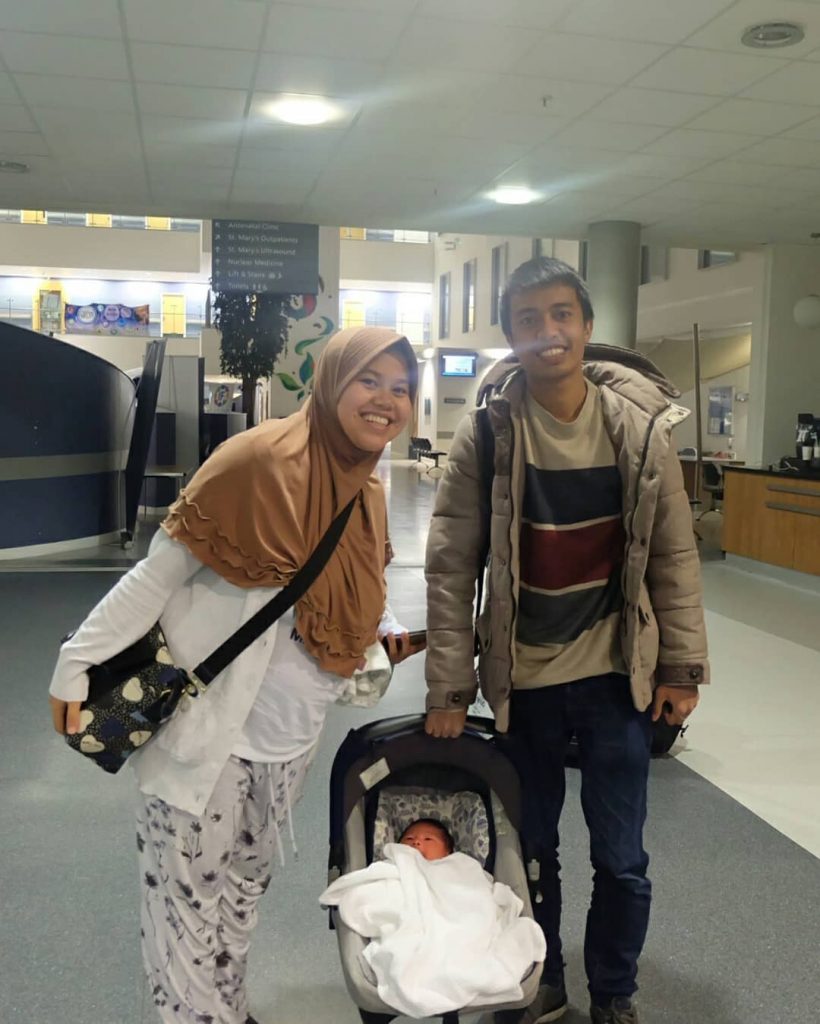 Media Wahyudi Askar – Bilal Manchenio Askar – Kharisma Utari
22 September 2019